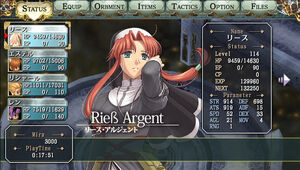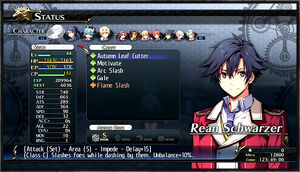 Character Status is a group of attributes that determines how a playable character performs in combat situations.
Equipment gives permanent parameter increase to an attribute as long as that item remains equipped on the character. The various types of equipment are: weapons, armors, shoes and quartz. Each can either increase or decrease a parameter value, depending on finding the correct balanced customization through trial and error.
The rest of the items are consumables affecting parameter values temporarily during battle regardless of HP, EP and CP recovery, until the effect is dispelled or the character is knocked out.
Status
Below are the many different attributes that comprise this group.
Parameters
Experience
EXP The accumulated experience with the value determined by each enemy defeated.
NEXT The remaining experience value left to reach the next level.